Trivia
Opening Quote
It's tempting to add "I Did It My Way" to the soundtrack of this chapter, but I won't. The song has been used by so many opportunists that it makes me cringe. I do still like Frank Sinatra's quote "The Best Revenge Is Massive Success" though.
Rolemodel Entrepreneur of the City of Ghent
In 2012, I was nominated for "De Genste Entrepreneur", a contest for entrepreneurs active in the City of Ghent. The theme of the 2012 edition was "sustainable business". I lost to Karen Depoorter, the founder/owner of Callas Confiture, a chain of shops selling homemade jam.
BelCham Entrepreneurship Award
iText won the BelCham Entrepreneurship Award 2014 in the category Most Promising Company of the Year.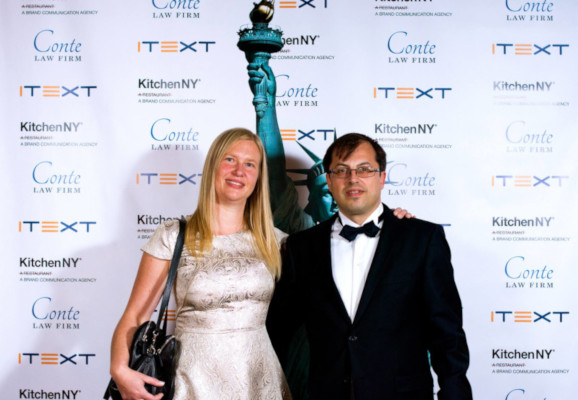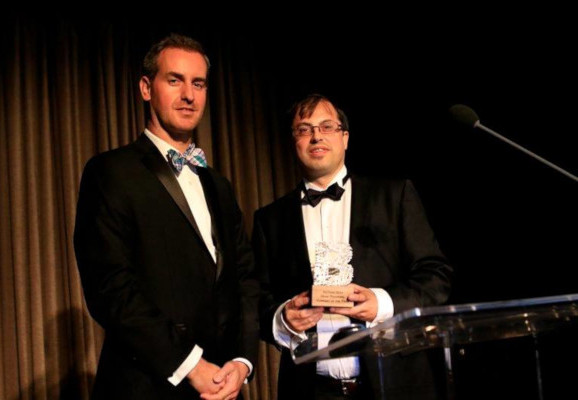 © 2014, BelCham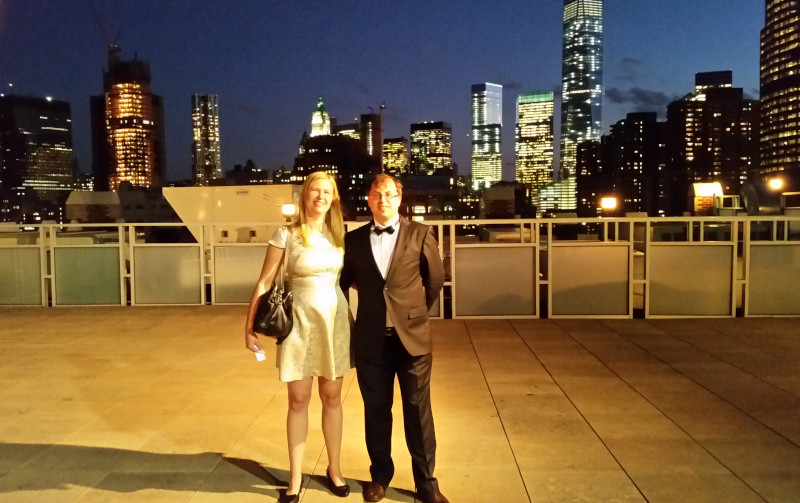 © 2014, personal collection Lowagie-Willaert
Deloitte's Technology Fast 50
iText won tenth place in Deloitte's Benelux Technology Fast 50 (third place in Belgium) in 2013.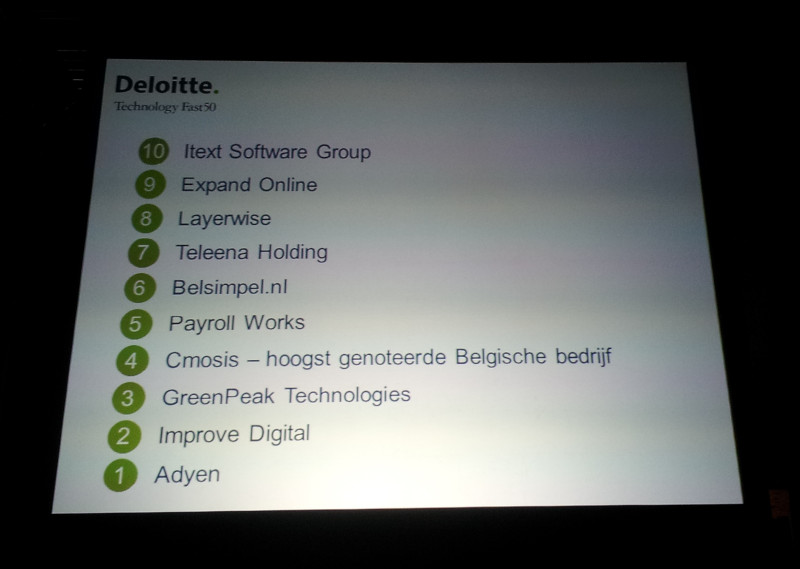 © 2013, personal collection Lowagie-Willaert
iText won Deloitte's Technology Fast 50 in 2014!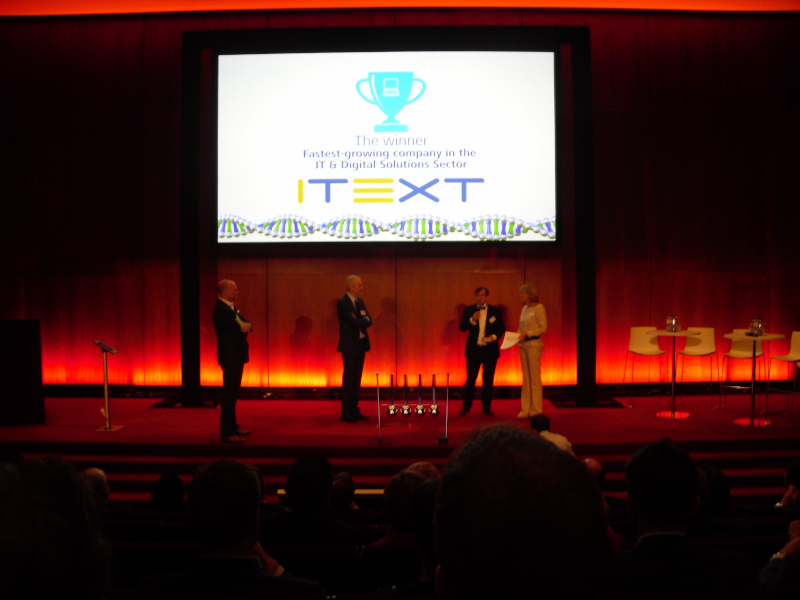 &copy 2014, personal collection Lowagie - Willaert
Winning the Fast 50 got us to ring the bell at the Brussels Stock Exchange Euronext.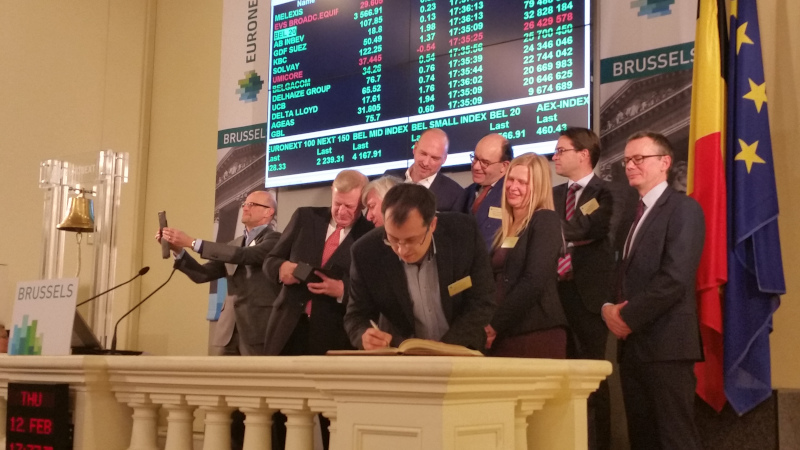 © 2015, personal collection Lowagie-Willaert
2014 was a great year in the history of iText.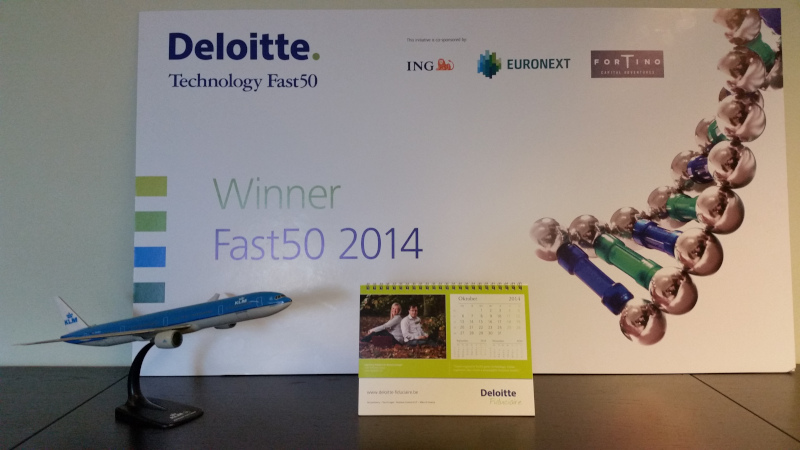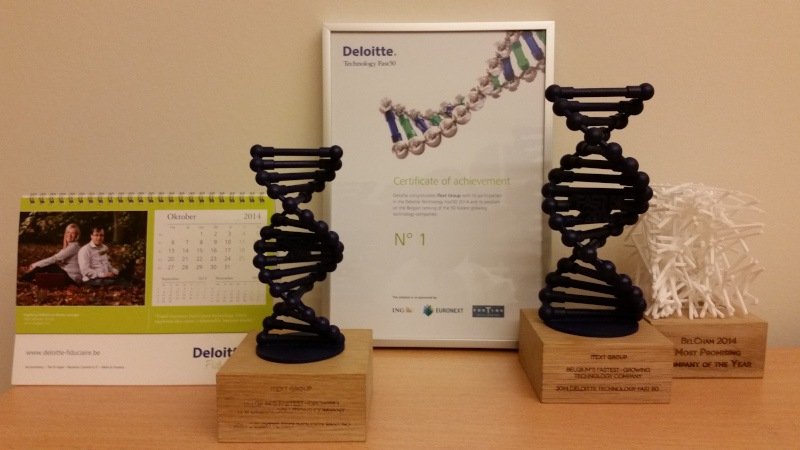 © 2014, personal collection Lowagie-Willaert
American Business Awards
Ingeborg and I winning our first Bronze Stevie.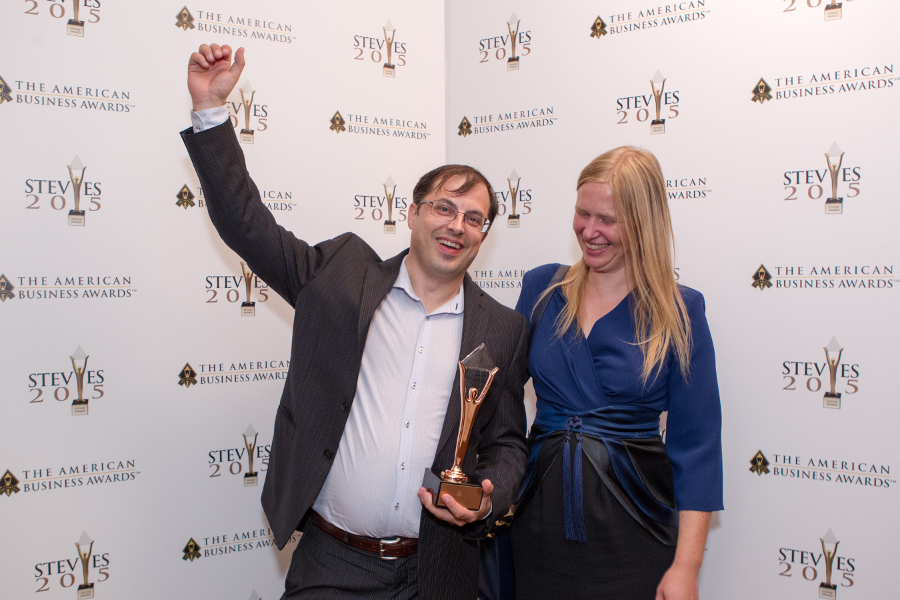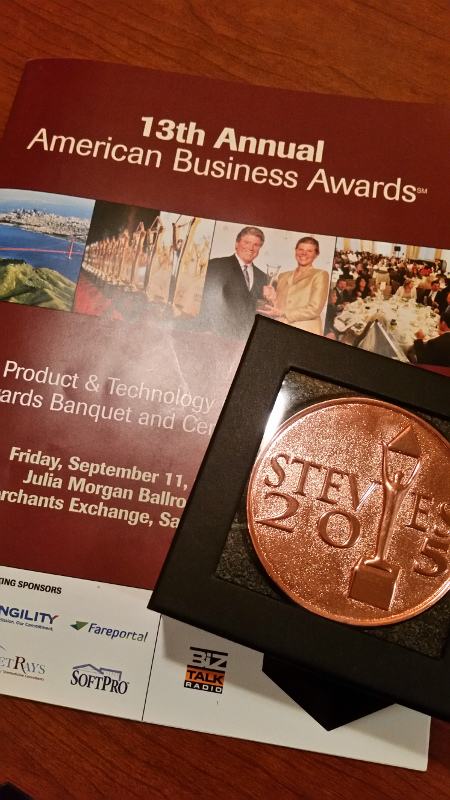 &copy 2015, personal collection Lowagie - Willaert
European Business Awards
We were National Champion at the European Business Awards several years in a row.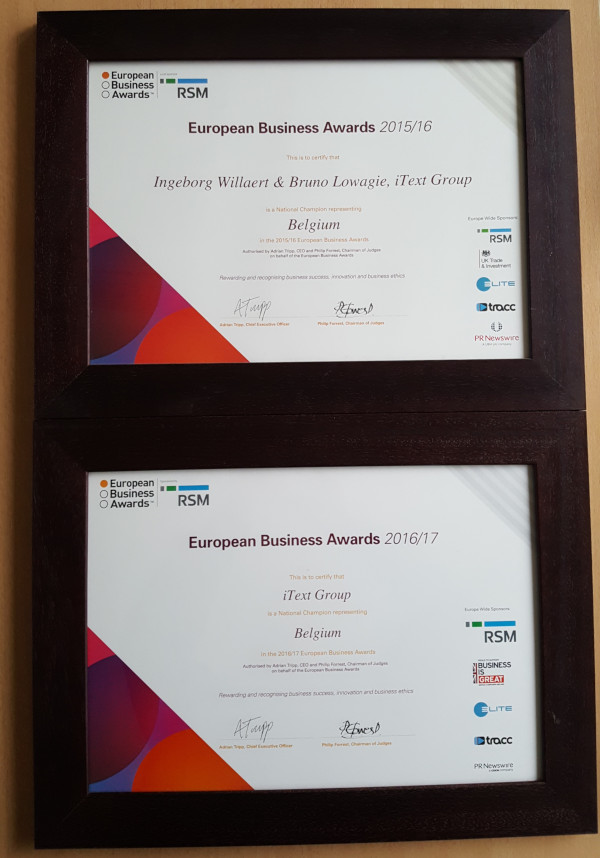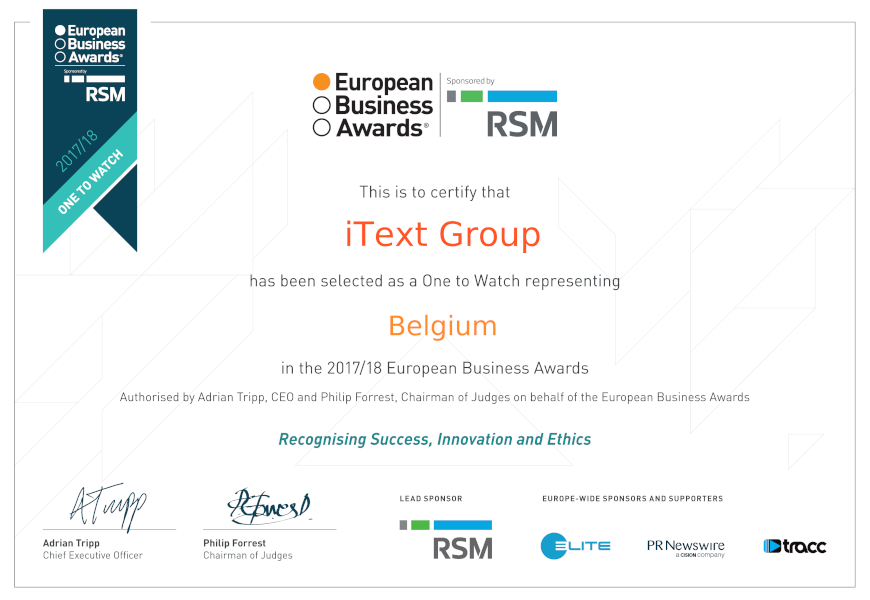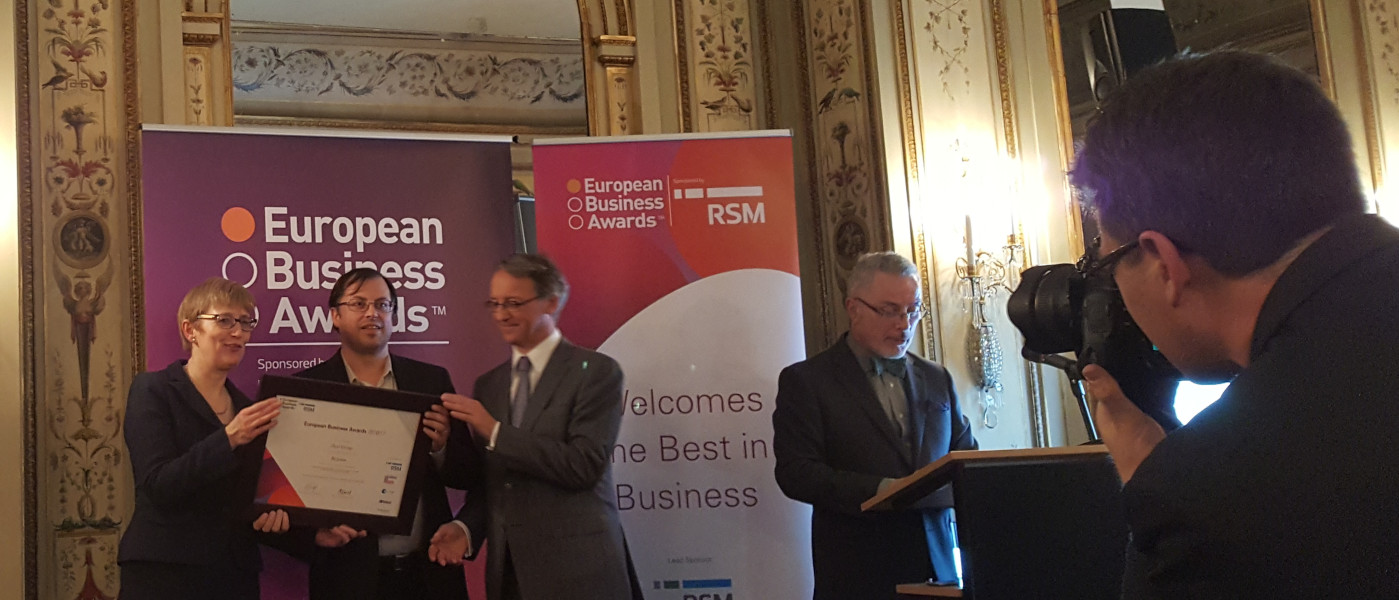 © 2017, personal collection Lowagie-Willaert
My homemade video for our first participation in the European Business Awards.
The second video was made by a professional company.
The third video was homemade again.
Flanders Investment & Trade
This is the video that was made the only time we won a Lion of the Export nomination:
JavaOne Rockstar Award
I'm the proud winner of a JavaOne Rockstar Award.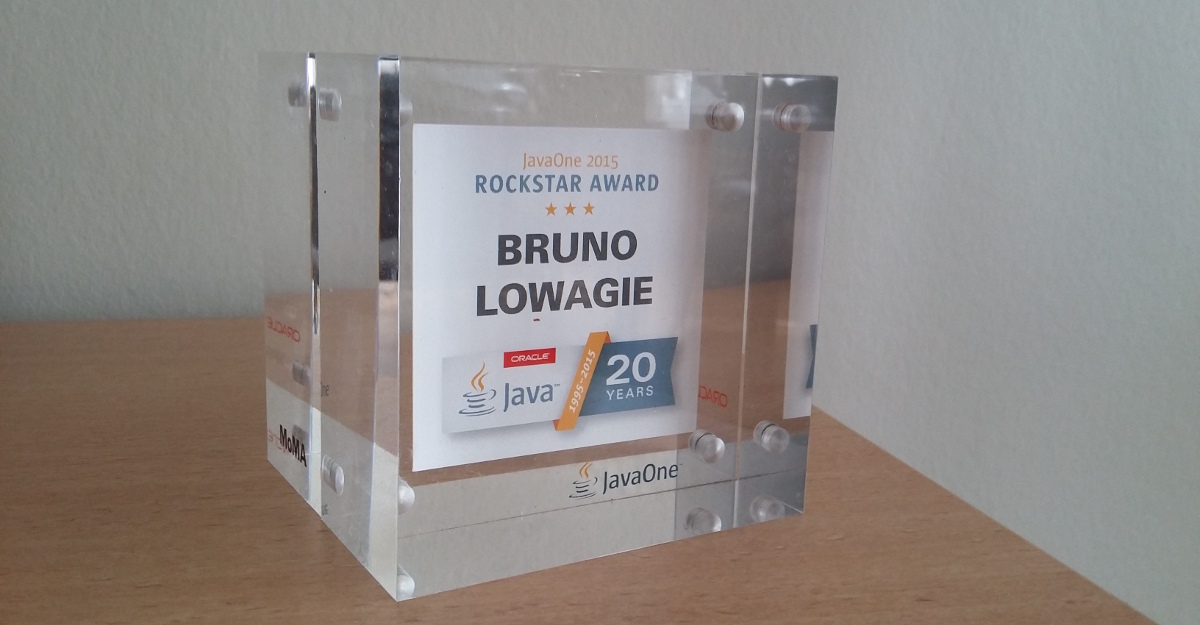 © 2016, personal collection Lowagie-Willaert
This is the slide deck of the talk that won me the award; it also covers the lawsuit we won against a company that infringed the AGPL.
Black Duck Survey
This is a talk in which I explain the importance of standards, one of the things users and customers appreciated most about iText according to Black Duck's survey.
International Expansion
We went on a "Princely Mission" to Singapore with the Belgian Princess Astrid.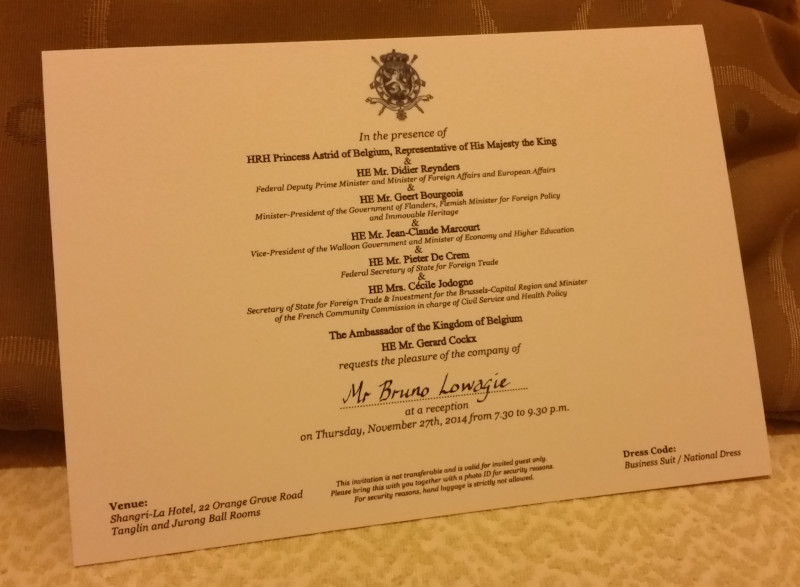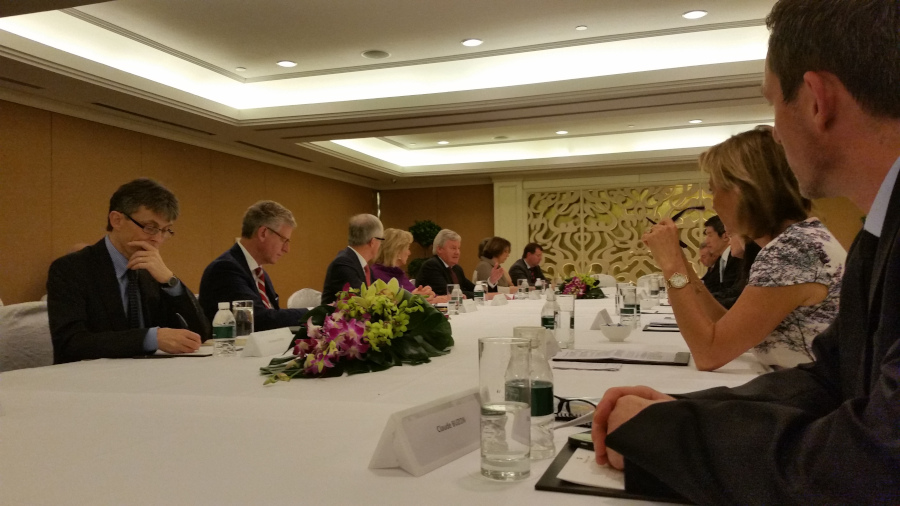 &copy 2014, personal collection Lowagie - Willaert
This was our first visit to Singapore.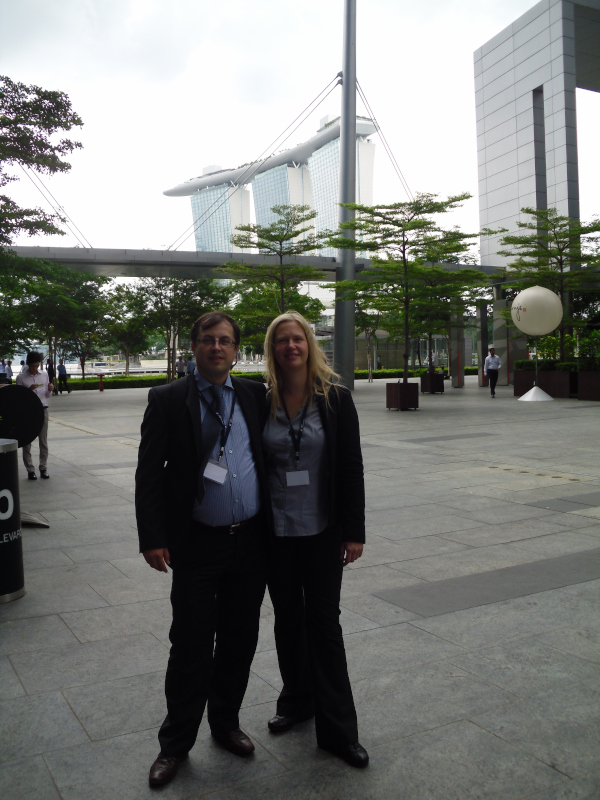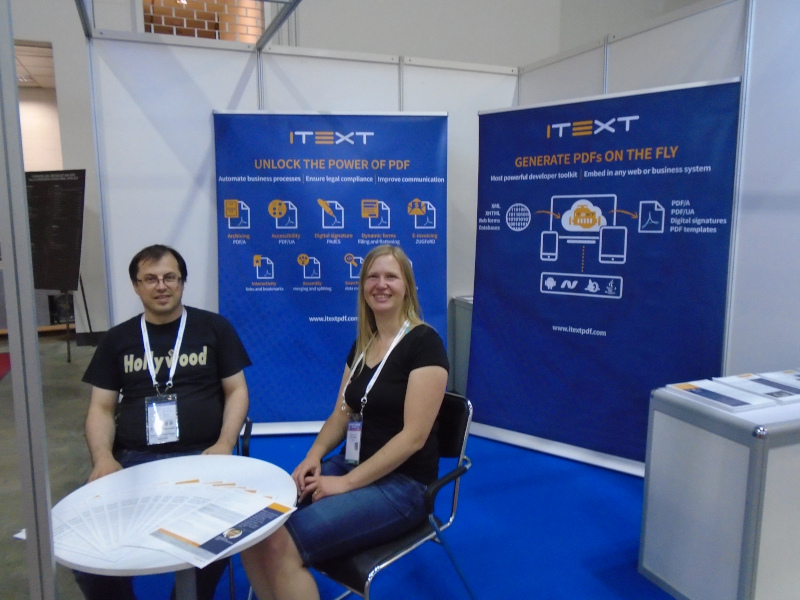 &copy 2014, personal collection Lowagie - Willaert
Opening an account in a bank in Singapore.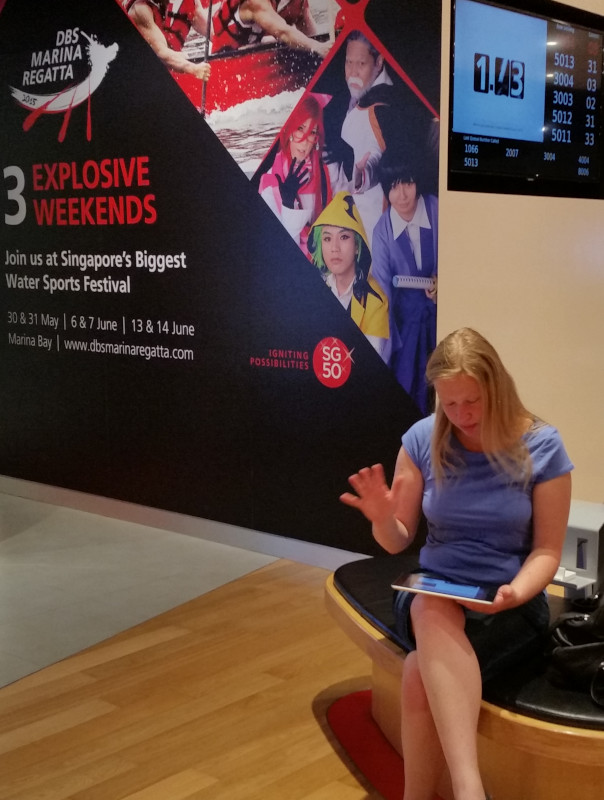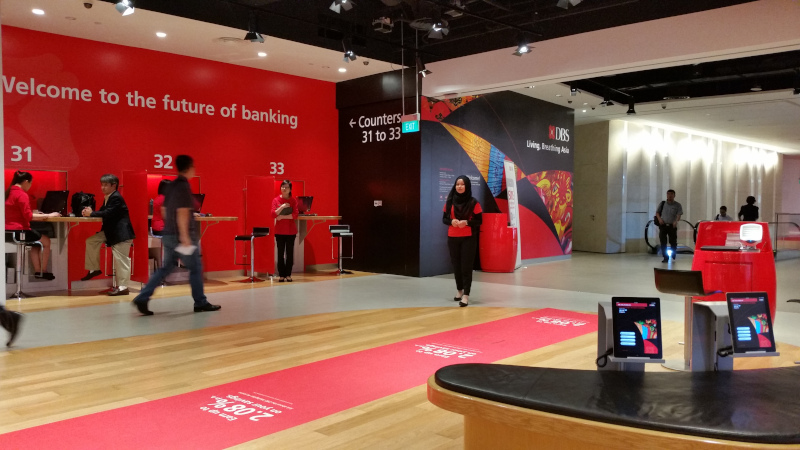 Our first office in Singapore.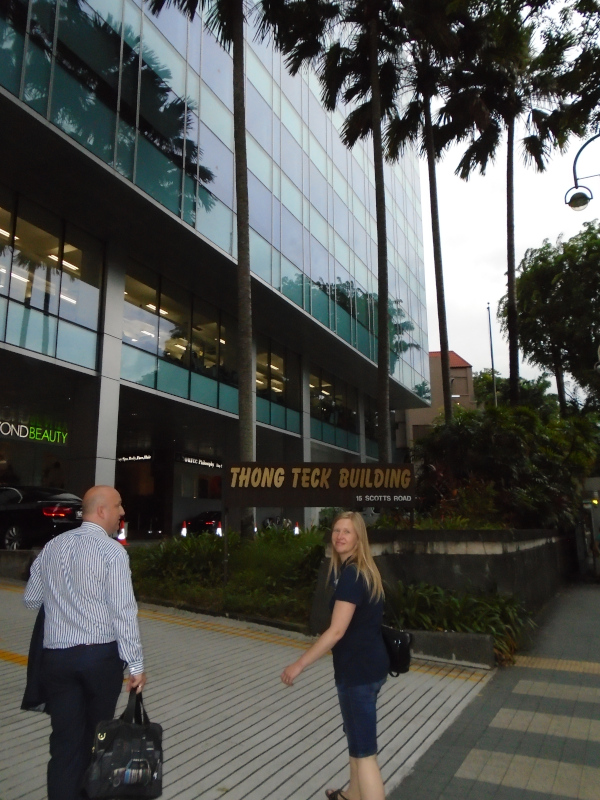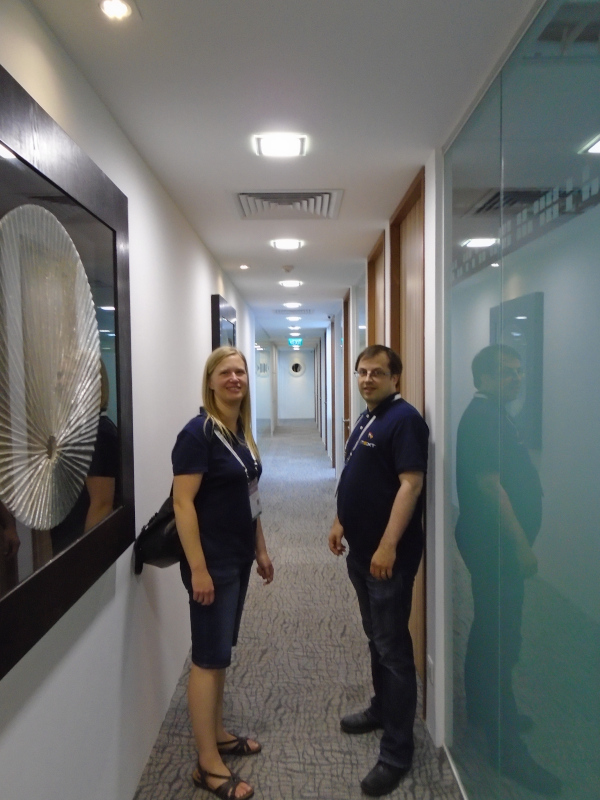 &copy 2014, personal collection Lowagie - Willaert
Our first partner in Singapore.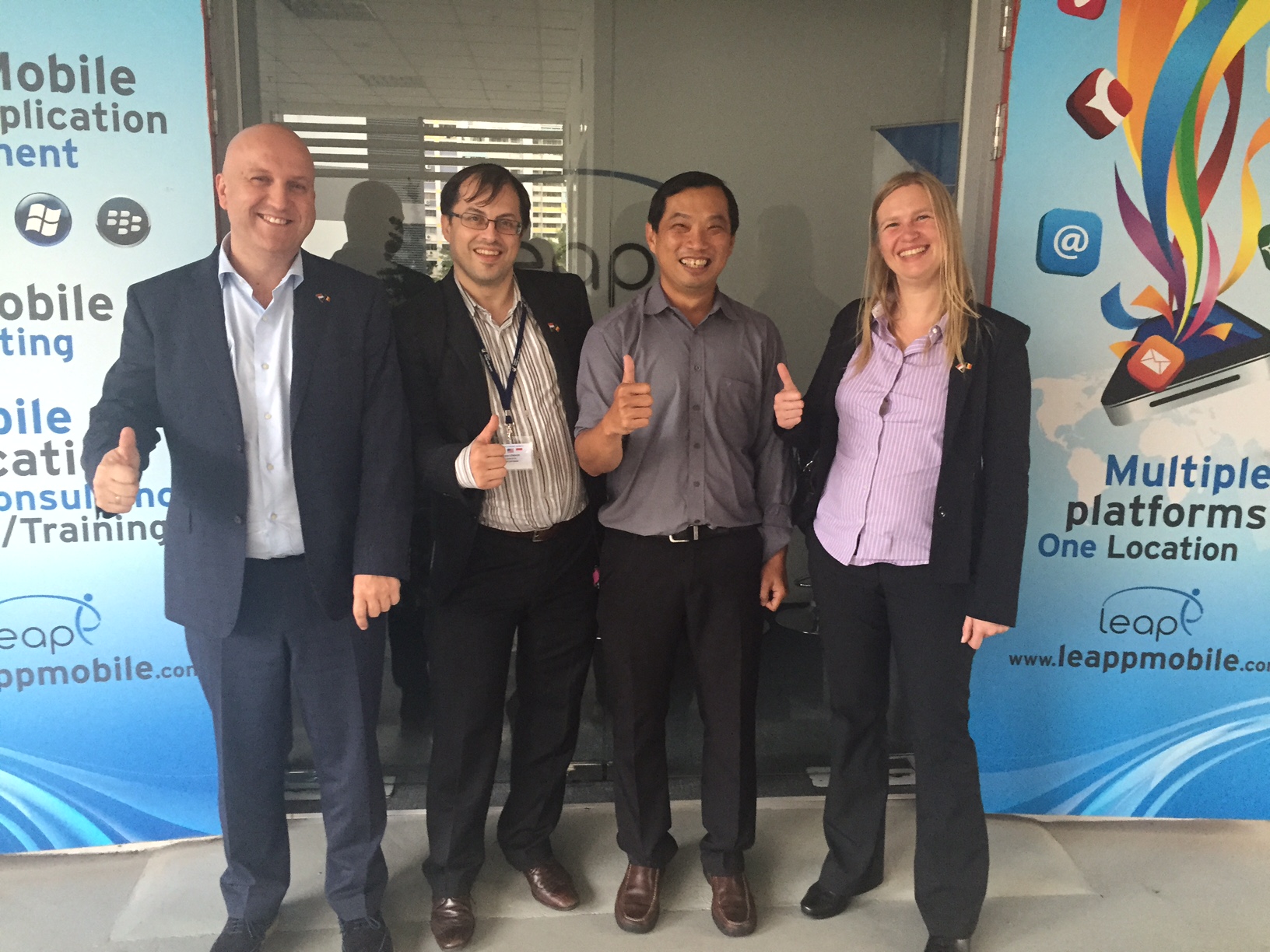 &copy 2014, personal collection Lowagie - Willaert
Unique copies with slightly different content
I distributed the eBook version of Entreprenerd using the Draft2Digital eBook service. This service propagates the book to Barnes & Noble, Vivlio, and other channels. Unfortunately, Draft2Digital initially refused to submit the book to Apple Books because of a "Competitor Reference - The content contains references to sales channels that are in direct competition with the chosen sales channels."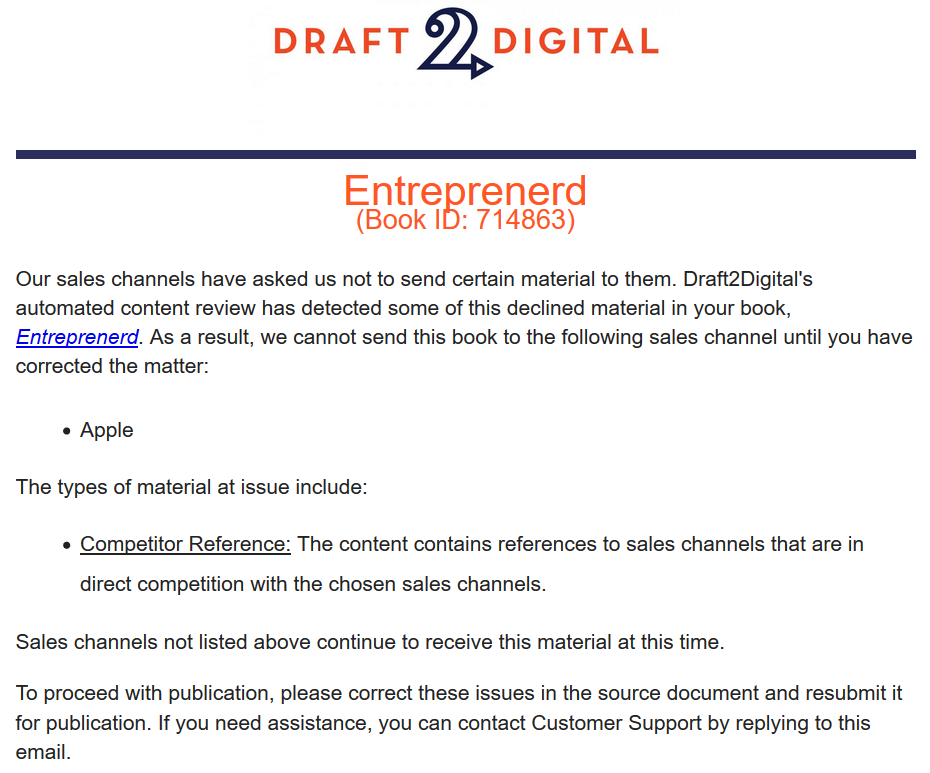 Assuming that Apple didn't like my reference to the lean publishing platform LeanPub, I created an edition of the eBook in which I censored a small portion of the text.
This was the original version: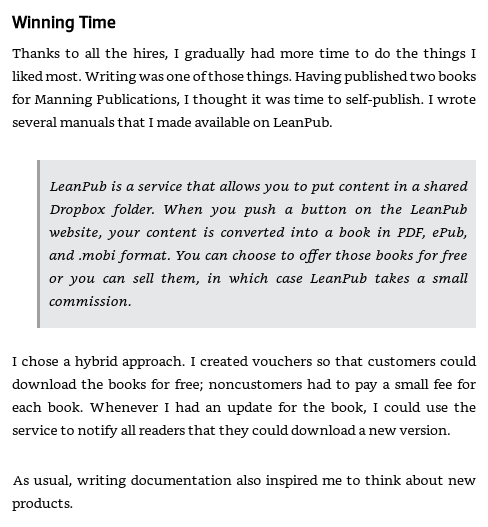 This is the censored version: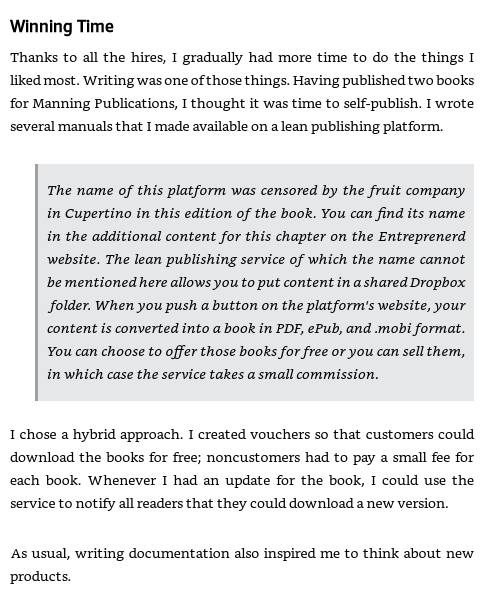 That altered version was accepted, proving that the occurrence of the word "Leanpub" was the reason why the original version was declined. Eventually, support @ Draft2Digital overruled the automated process, and readers who purchase the book on Apple Books today, should get the original version. For more information about this strange experience, read the blog post on my personal website.
Book Quotes
Some developers had inquired about our prices and claimed that our commercial licenses were far too expensive. Oddly enough, there were also respondents who said that our prices were relatively low, especially when compared to other PDF libraries that often had less functionality. Pricing is always a tricky issue.
I wanted iText to behave as an ethical company.
"Are we really in the business of making customers in court?" I asked the salespeople. They answered with a counterquestion: "Do you expect other companies to act ethically as well?"
That was meant as a rhetorical question, but I chose to answer it anyway: "I do, but it's better for the business to show some naivety and pretend that the abuse is caused by ignorance rather than malice. I want com¬panies to welcome our salespeople as the heroes who can solve their problem by offering them a good deal, rather than as policemen who penalize them for not knowing the rules."
Thanks to all the hires, I gradually had more time to do the things I liked most. Writing was one of those things.
Soundtrack for this Chapter
I listen to music, but my taste in music is questionable. I've selected a handful of songs for every chapters. Sometimes, there's a link to the chapter, sometimes I just like the song.