Trivia
Opening Quote
I open this chapter with the Serenity Prayer. I encountered this prayer for the first time in the book Slaughterhouse-Five by Kurt Vonnegut.
Buy Slaughterhouse-Five on Amazon .com / .co.uk / .fr / .de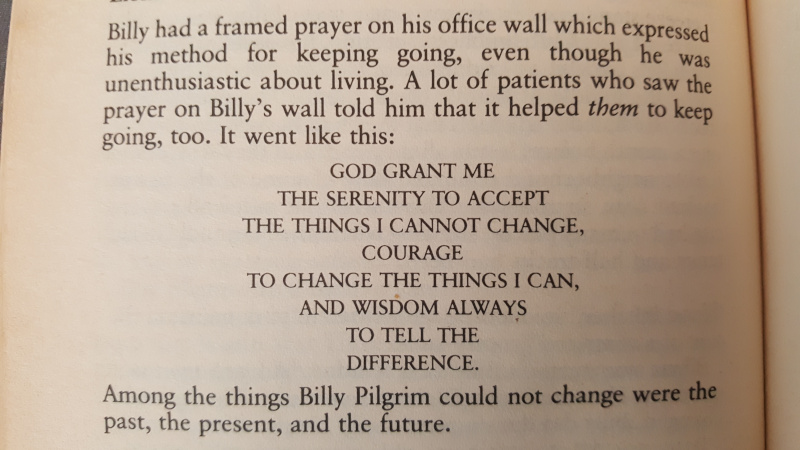 Focus on iText
This was the Belgian iText team in the bus on the way to the All Hands Meeting: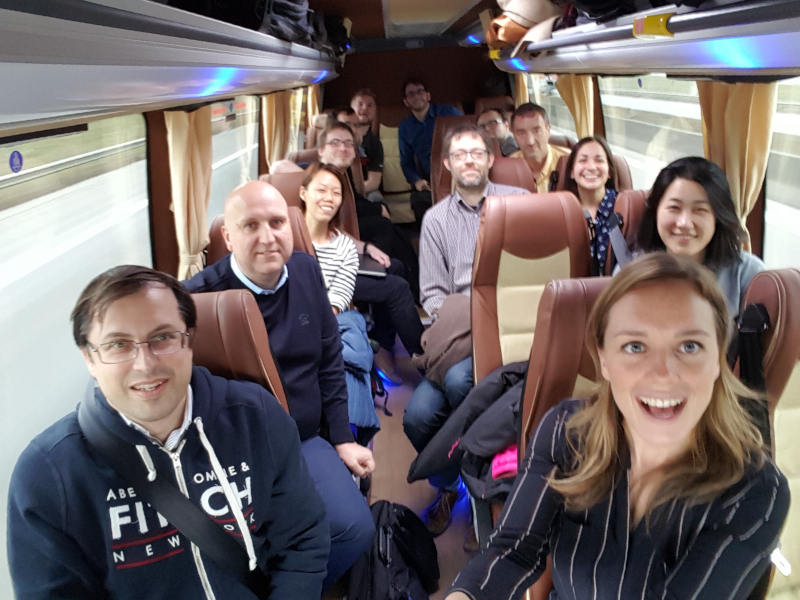 © 2017, personal collection Lowagie-Willaert
The GPL, an Enforceable Contract
While waiting for a plane in Brussels Airport, I read the article A federal court has ruled that an open-source license is an enforceable contract.
Buckeye Roadhouse
During a phone call with the CEO of Artifex, we talked about a great restaurant in Mill Valley: the Buckeye Roadhouse.
iText as a Platform
Stephan Engelen and I came up with the concept of iText as a Platform.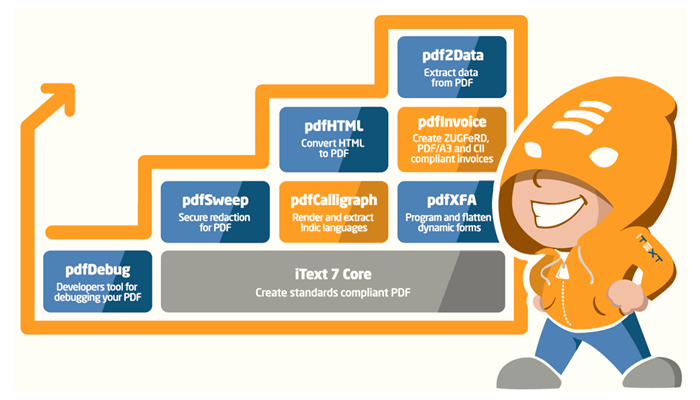 The iText mascot was based on me always wearing a hoodie and a sketch I once drew on the white board. It was used in the marketing materials in 2018-19: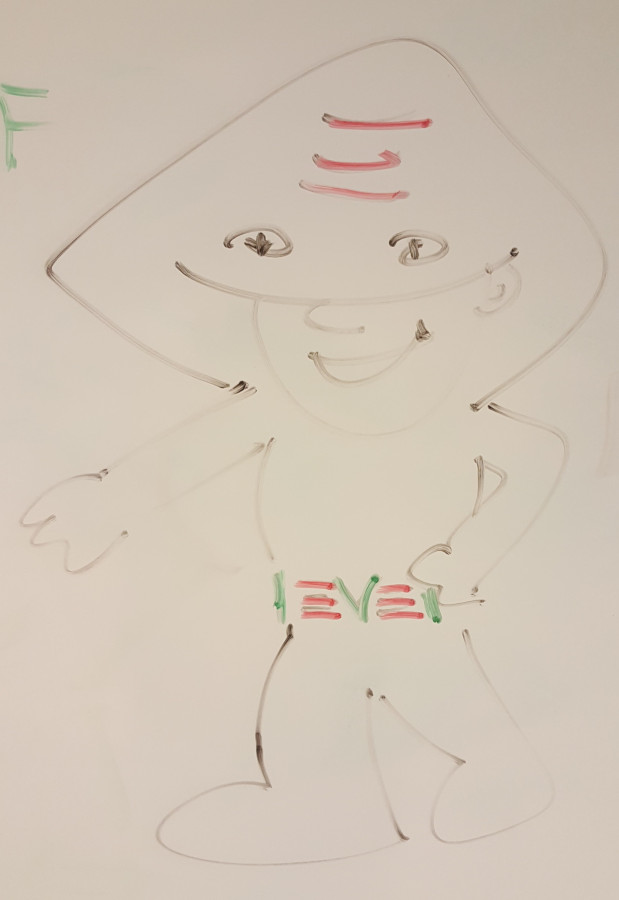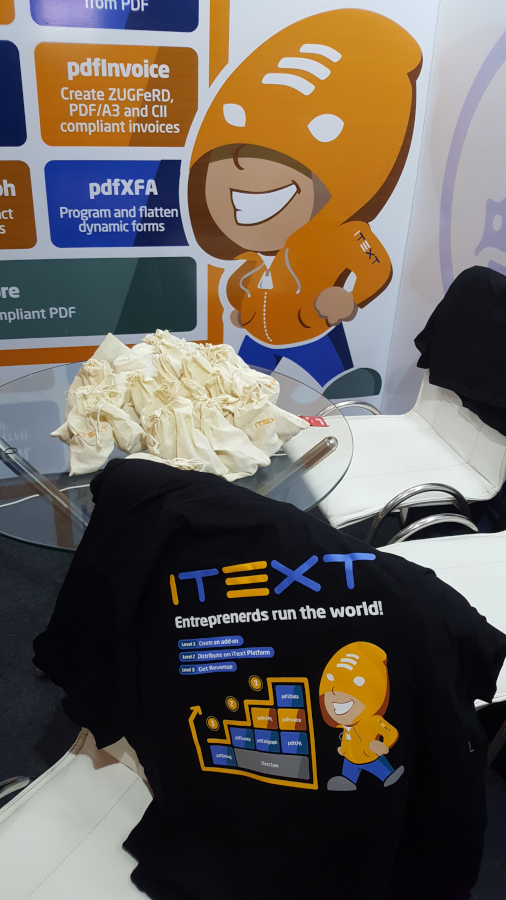 ZUGFeRD & ETDA
If you want to know what ZUGFeRD is about, you can watch this (long) video.
This is the team that presented ZUGFeRD at an ETDA event in Bangkok: Chanpreet Kathuria, Johannes Döring, Sujira Promnimit, and myself.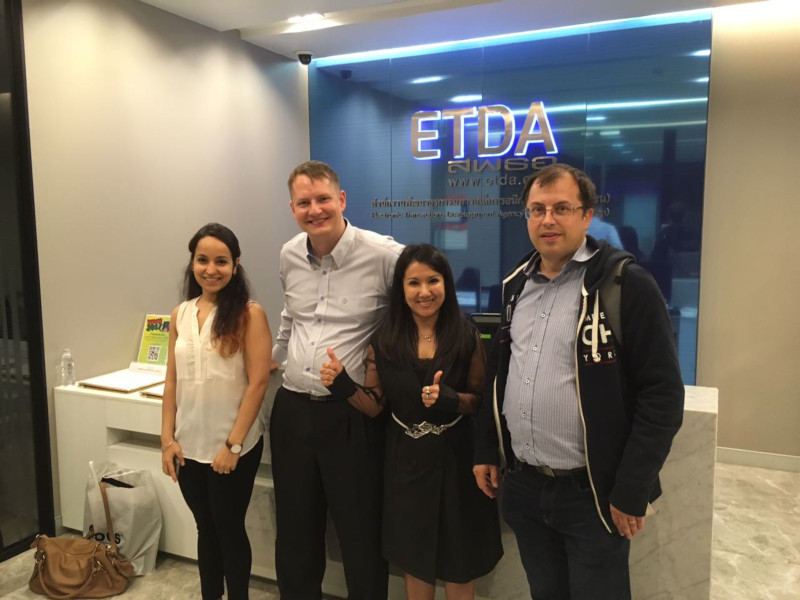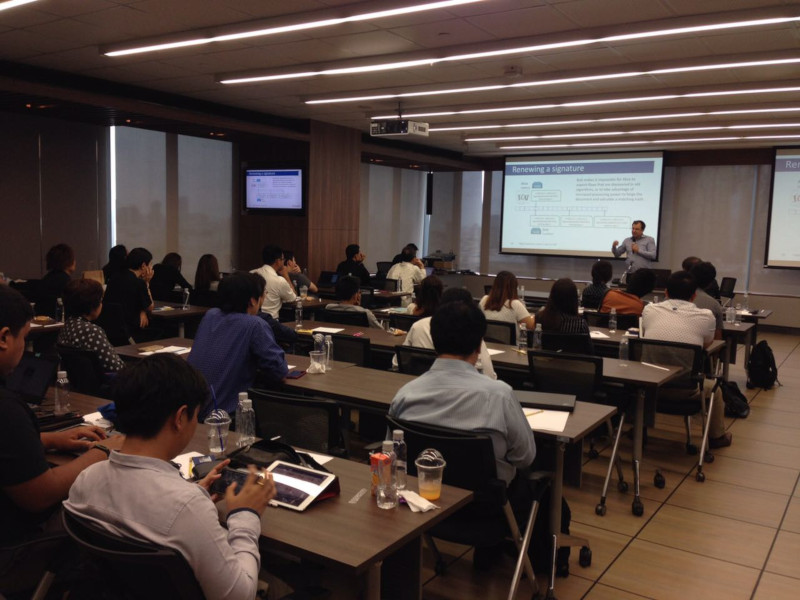 &copy 2017, Inbatek
You can find all the videos of the ETDA conference in Bangkok on YouTube
Growth
iText invested in growth in 2017. These are some of the job opening for the Belgian office that year.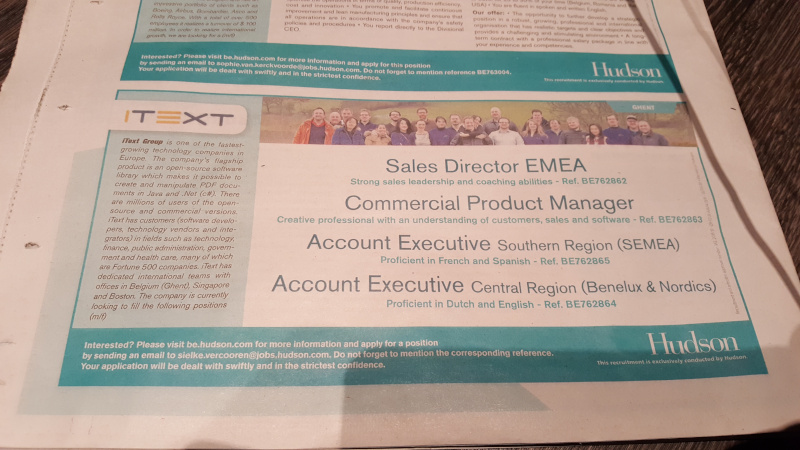 &copy 2017, personal collection Lowagie-Willaert
iText @ Oracle Code One
This is the iText booth at Oracle Code One in 2017.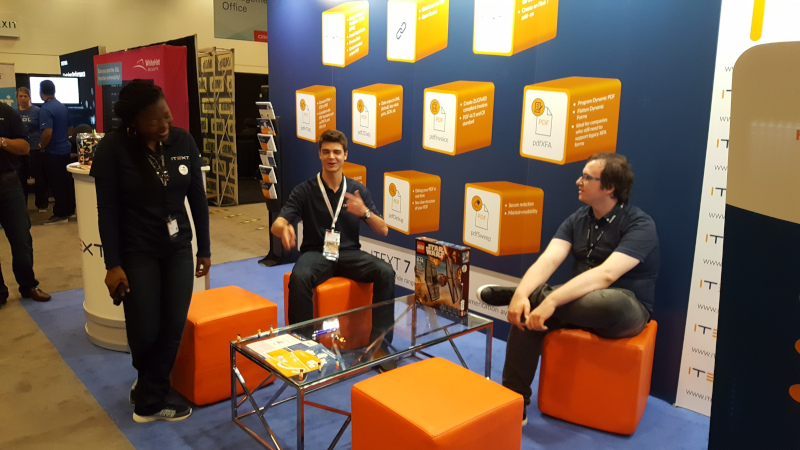 © 2017, personal collection Lowagie-Willaert
Visiting Thiel Capital
In December 2017, I was invited to talk about iText at Thiel Capital.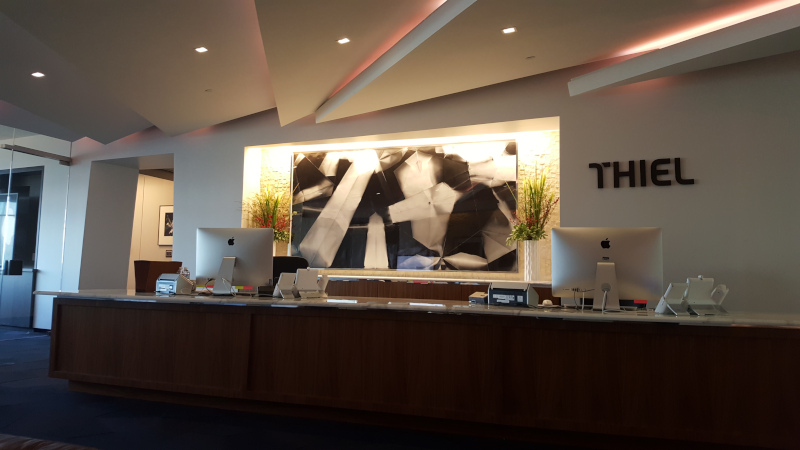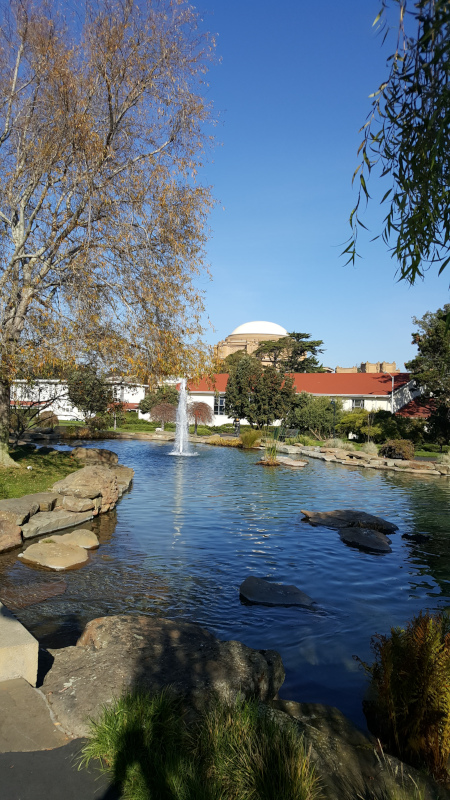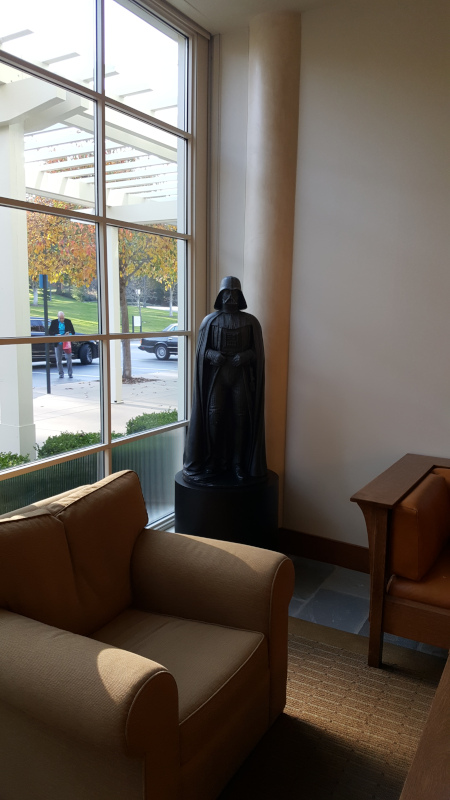 &copy 2017, personal collection Lowagie-Willaert
Peter Thiel is the author of the book Zero to One. I like that title. Although I succeeded in growing the business, I often told the board of directors: "I like building something out of nothing; I'm less interested in making more of plenty." The book itself has its merits, but it's a pity the author didn't practice what he preached in the sense that he didn't come to my defense when I could use some help. As an investor, he's probably more interested in 1 to M nowadays.
Book Quotes
That's the power of FOSS at its best. Something I had created to kill the time in one part of the world indirectly led to digital innovation in another part.
I had indirectly advised a competing colleague on how to sue an infringer, not knowing that he would sue a business partner.
In December, I was informed that Crescendo was also interested in iText. I was invited to go to the headquarters of Thiel Capital in San Francisco to introduce iText to Matt Danzeisen, Peter Thiel's husband.
Errata
On page 333, "I text" is in the wrong tense; it should be "I texted" (reported by Paul Jowett).
Soundtrack for this Chapter
I listen to music, but my taste in music is questionable. I've selected a handful of songs for every chapters. Sometimes, there's a link to the chapter, sometimes I just like the song.