Trivia
Opening Quotes
Part I starts with a quote from the movie Lawrence of Arabia (1962): "Big things have small beginnings, sir."
Buy Lawrence of Arabia on Amazon .com / .co.uk / .fr / .de
The quote "If you live an ordinary life, all you'll have are ordinary stories" was taken from the movie Passengers (2016).
Buy Passengers on Amazon .com / .co.uk / .fr / .de
My Hometown
In Dutch, Ypres is written as Ieper: ieper.be.
In the late nineties, Ypres almost had a future in tech. L&H, a company founded by local entrepreneurs Jo Lernout and Pol Hauspie, developed speech recognition technology that was destined to conquer the world. See Lernout & Hauspie on Wikipedia.
My First Computers
My first computer was a TI-99/4A from Texas Instruments. As far as I remember, we paid about 40,000 Belgian Francs for it in 1982. That's about €1,000 / $1,200. Today, you get a decent computer for that price, but in the eigthies, 40,000 Belgian francs was a lot of money.
My second computer was a TRS-80 4P. My parents paid 120,000 Belgian francs for it (€3,000 / $3,600), but a couple of weeks later the price was cut in half.
VisiCalc was a spreadsheet software for personal computers, a pre-decessor to Lotus-1-2-3 and Excel.
My Youth
My mother followed a multimedia workshop and made this video using old pictures:
I was 25 in this picture (1995), but it gives you a fair idea what I meant when I wrote that "I wore glasses that made me look like Bill Gates":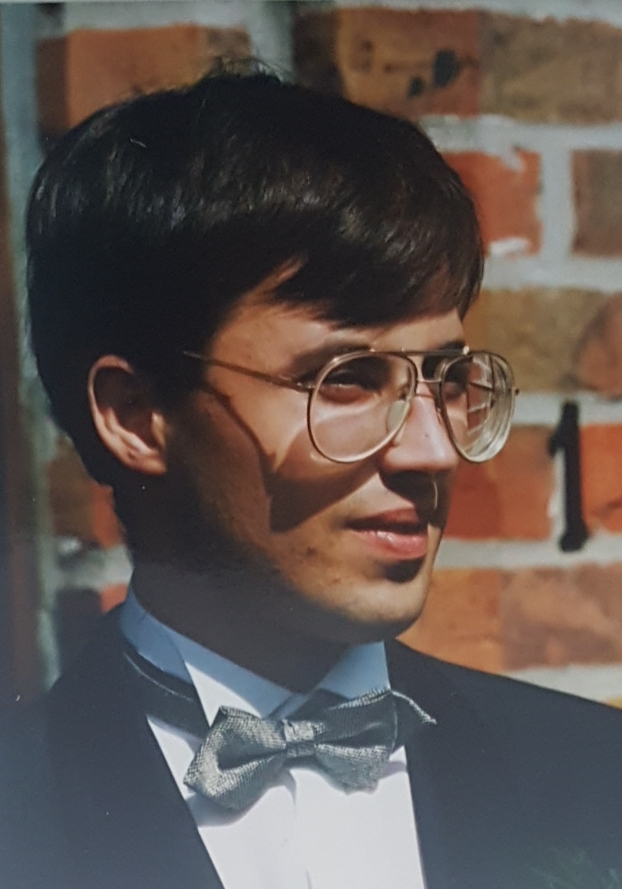 © Foto Video Filip (Moorsele)
Book Quotes
I knew that I was reinventing the wheel, but I didn't mind. Building something from scratch is often the best approach to understand how something works, and maybe improve it along the way.
Movie References
Whiz Kids (1983-1984) was one of my favorite series in my teens. I watched it on French television (Sunday afternoons on Antenne 2), where it was called Les Petits Génies . You may have noticed that I wrote "I considered myself a little genius in high school" in the introduction. That was a reference to the French title of this television show.
Soundtrack for this Chapter
I listen to music, but my taste in music is questionable. I've selected a handful of songs for every chapters. Sometimes, there's a link to the chapter, sometimes I just like the song.