Trivia
Opening quote
Originally, I used the quote "I'm always ready to learn, although I do not always like being taught", but after reading an article on quoteinvestigator.com, I changed it to "Personally, I am always ready to learn, although I do not always like being taught," words by Winston Churchill on November 4, 1952 while speaking in the House of Commons in London.
Higher Education
I studied at Ghent University, at the Faculty of Engineering and Architecture. Although the study program has changed substantially over the years, my degree is similar to Master of Science in Engineering Architecture Good students can graduate in five years; I needed seven years (1988-1995).
My wife's degree is Master of Science in Civil Engineering Technology .
We wrote our master thesis together: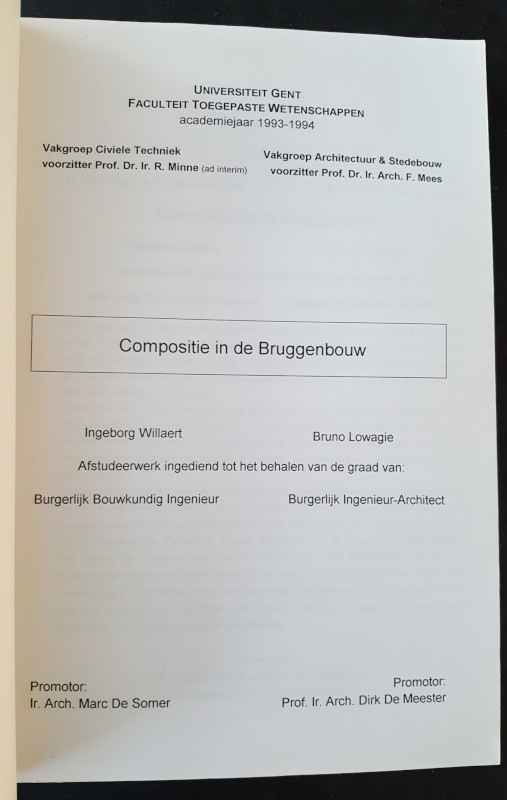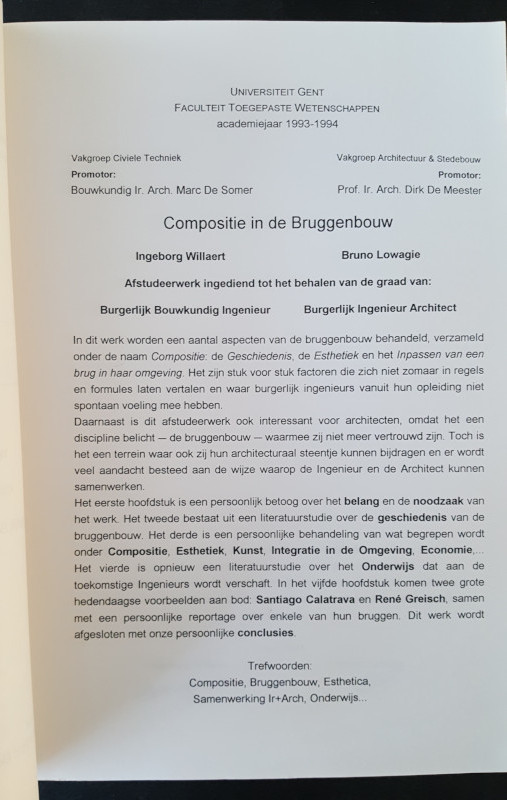 My First Publication
I won my first literary award with a short story "Icarus Falling" in 1994: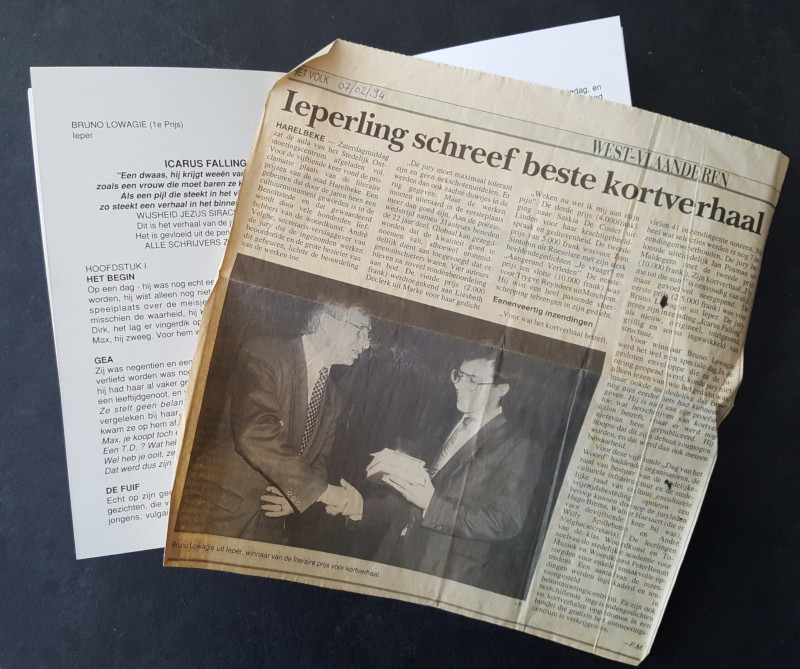 Our Marriage
This is what we looked like on the day of our marriage party (September 1, 1995).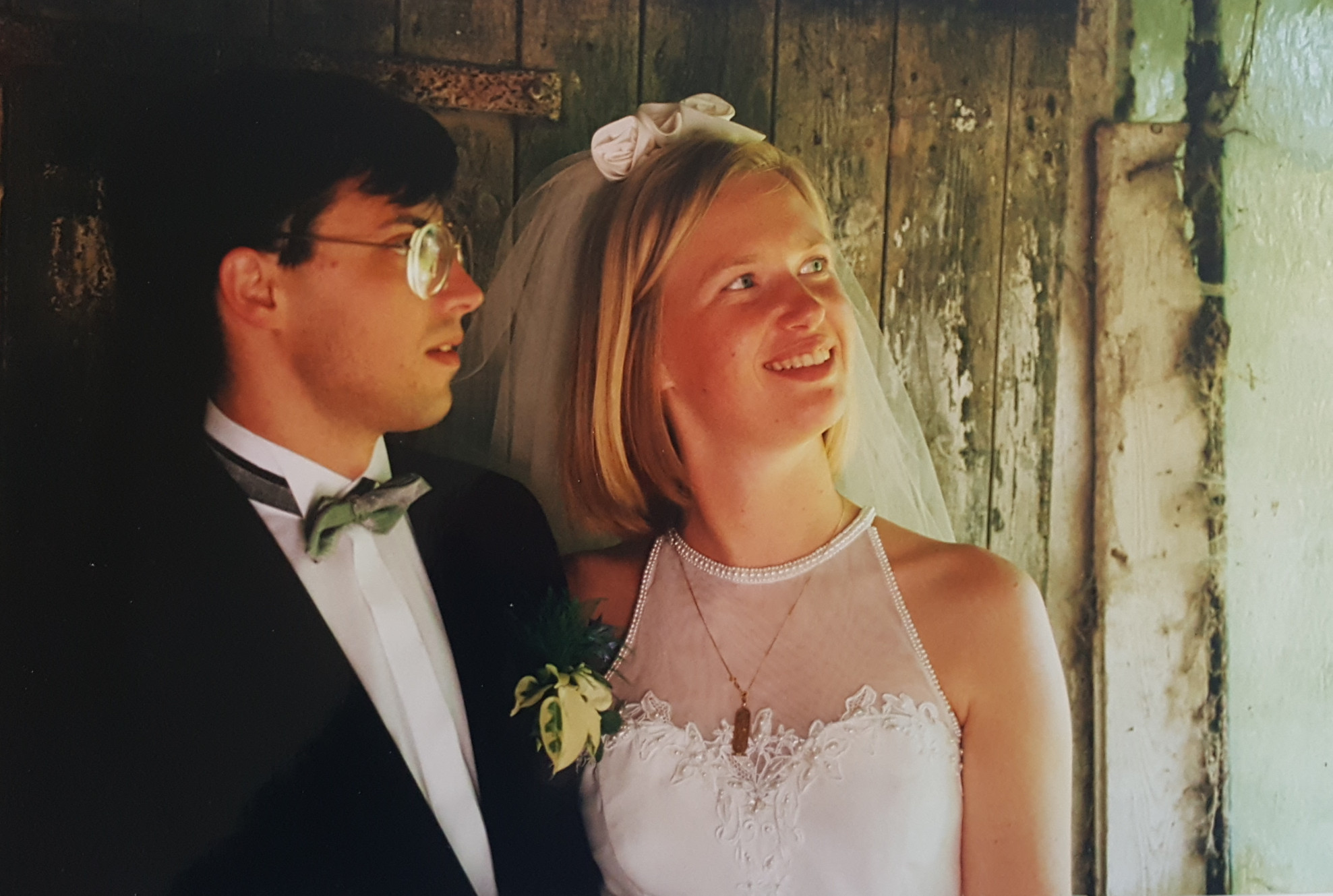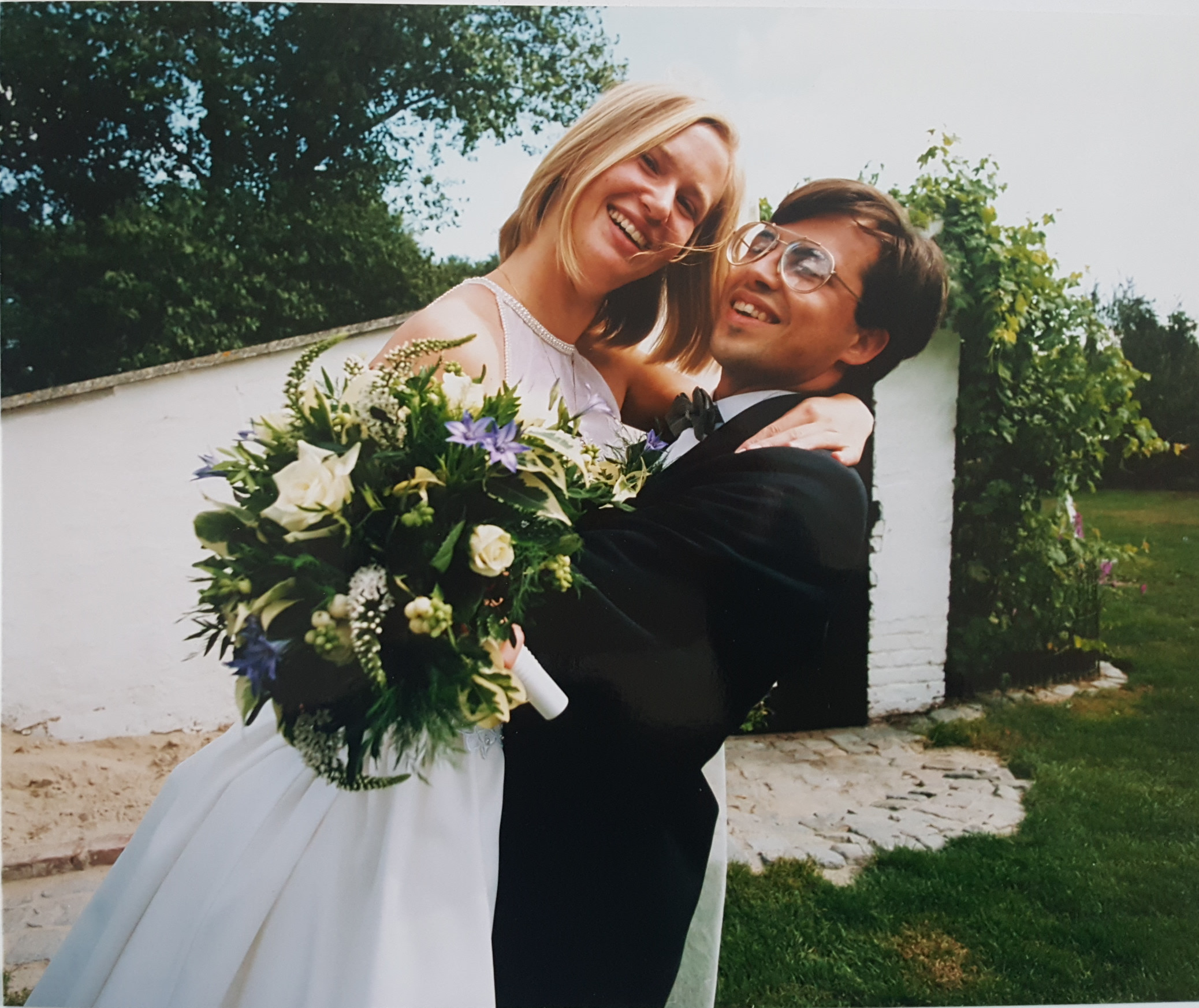 © 1995, Foto Video Filip (Moorsele)
The most awkward comment I've ever received on my wife was a LinkedIn invitation with the message:
"Don't you think she is too beautiful for a computer geek like you?" (March 26, 2016).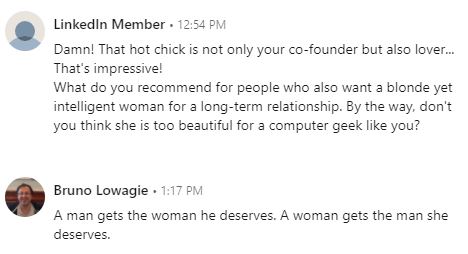 It goes without saying that I refused the invitation to connect.
Book Quotes
I could choose to put the blame for my failure on the teacher, but playing the victim wouldn't get me anywhere. I could choose to tolerate the teacher and prove him wrong.
I discovered that I preferred a keyboard over a drawing board.
Things hardly ever happen in the order you want them to happen.
Movie References
Ingeborg and I became a couple (for real) after watching the movie When Harry Met Sally (1989).
Buy When Harry Met Sally on Amazon .com / .co.uk / .fr / .de
We kept our relationship a secret to the outside world until after watching the movie Wild At Heart (1990).
Buy Wild At Heart on Amazon .com / .co.uk / .fr / .de
I don't mention this in my book, but my favorite movie (of all times) is Nuovo Cinema Paradiso (1988).
Buy Nuovo Cinema Paradiso on Amazon .com / .co.uk / .fr / .de
The music score was written by Ennio Morricone. It's fabulous:
Buy Nuovo Cinema Paradiso (OST) on Amazon .com / .co.uk / .fr / .de
Soundtrack for this Chapter
Stop by Sam Brown was the first slow dance I danced with Ingeborg. The year was 1988. We weren't a couple yet, and the dance happened "by accident"; I was trying to introduce her to another boy who had a crush on me, and she thought I wanted to dance with her. We wouldn't be a couple until October 1989. I picked the second song because the chapter is about my college years. I chose the cover version by Beck because of the movie it was used in. I grew up near the French border, so you'll find several French songs in my selection, like the beautiful love song by Francis Cabrel. If you read the book, you'll understand my choice for Im Abendrot / Love Me Tender. Calling You was the opening dance at our wedding. This way, the selection for chapter 2 starts with my first dance with Ingeborg and the first dance at our wedding.
I listen to music, but my taste in music is questionable. I've selected a handful of songs for every chapters. Sometimes, there's a link to the chapter, sometimes I just like the song.